---
Afghan Refugee Assistance Resources
Afghan Resources

A database of the resources available in Orange County.
---
International Rescue Committee
The IRC warns that increased conflict could spell tragedy for Afghanistan, where 18 million people are already in dire need of humanitarian assistance. The IRC has worked in Afghanistan through three decades of crisis, providing millions of people with shelter, education, clean water, health support and other aid, and we will stay as long as we are needed. Donate now to help us support children and families in Afghanistan and in crisis zones worldwide.
---
International Institute of Los Angeles
How you can help IILA support Afghan refugees
On August 15, 2021, the Taliban captured the capital city of Kabul, effectively taking control of the government of Afghanistan and sparking mass evacuations of international personnel and Afghan citizens. Thousands of Afghans at risk of retaliatory violence from the Taliban have been evacuated, including those who worked with the U.S. government and military.
---
AccessCal provides 100 services each day. Our main programs are: Mental Health Services, Health Coverage Access, Employment Services, Emergency Financial Assistance, Immigration & Citizenship Assistance, Client Advocacy, Translation & Interpretation, ESL, Parenting, and Self-Help Classes, and Youth Mentoring.
---
We offer a number of tools aimed at assisting refugee families as they re-establish their lives here in America. Each of these tools meet an essential need, including but not limited to: supplemental food, English instruction, financial counseling, housing assistance, job coaching, youth leadership corps, summer camp, and community connections within the Little Arabia neighborhood.
---
Afghan Placement and Assistance Program

Interfaith-RISE is a partner agency of the U.S. Committee for Refugees and Immigrants (USCRI). USCRI is one of 9 agencies that the state department works with to resettle between 50,000 and 100,000 refugees a year, from all around the world. In the wake of the transfer of power in Afghanistan, that has left many Afghans in grave danger, USCRI and its affiliates have joined forces with the other 8 national agencies to offer tens of thousands of permanent resettlement opportunities.
---

This program is currently on hiatus. Please check back later.
Delivering with Dignity Orange County was launched on June 24, 2020, as an emergency response to the healthcare and economic crisis created by the novel coronavirus and has grown exponentially in its effort to help the most vulnerable and isolated individuals in Orange County. Through partnerships with locally-owned restaurants, leading nonprofit agencies, and private corporations, the program delivers meals directly to the doorsteps of residents, keeps dozens of restaurant staff employed.
---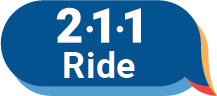 211RIDE is a free one-click trip planning tool offering information about available transportation options in Orange County, Riverside County, San Bernadino County, and Ventura County. This service is available through a regional partnership between local 211 providers.
211RIDE simplifies your trip planning process by assessing your trip planning options based on factors such as physical mobility challenges, age, trip purpose, preferred transit mode and schedule.
211RIDE helps you choose the most appropriate transit mode by evaluating fixed-route transit, demand-responsive transit, taxi and other private transportation services, paratransit, volunteer transportation service networks and carpools/vanpools.