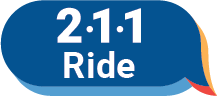 211RIDE is a free one-click trip planning tool offering information about available transportation options in Orange County, Riverside County, San Bernadino County, and Ventura County. This service is available through a regional partnership between local 211 providers.
211RIDE simplifies your trip planning process by assessing your trip planning options based on factors such as physical mobility challenges, age, trip purpose, preferred transit mode and schedule.
211RIDE helps you choose the most appropriate transit mode by evaluating fixed-route transit, demand-responsive transit, taxi and other private transportation services, paratransit, volunteer transportation service networks and carpools/vanpools.